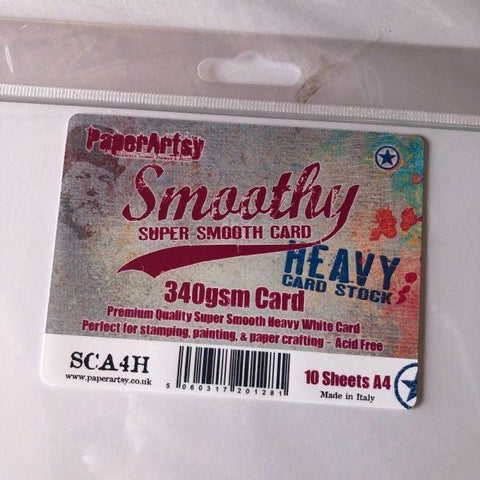 Smoothy Cardstock - A4, Heavyweight
SKU:
Super smooth stamping Card 10 A4 Sheets. 340gsm
If you are familiar with Thorndon Hall paper - this is the same stuff, but blank. Our customers have been absolutely thrilled with the quality of Thorndon Hall, and we are getting rave reviews about Smoothy as a perfect stamping substrate. It is a matte, ultra smooth ideal stamping surface. If you stamp on a smooth surface, such as this, that is slightly absorbant, you get the best possible stamping result, ie beautiful, sharp crisp detail.
This card will cope with all kinds of inks: distress, pigment, dye, solvent. It is beautiful for pan pastels, paint, dye sprays, or to emboss, watercolour, portfolio pastels, marker pens etc. You will see the true colour of the inks you are using because it is white. (manilla card can suck the colour out of your work)
This very high quality Italian cardstock is 340gsm - cardstock very similar weight to manilla tags.
---
We Also Recommend