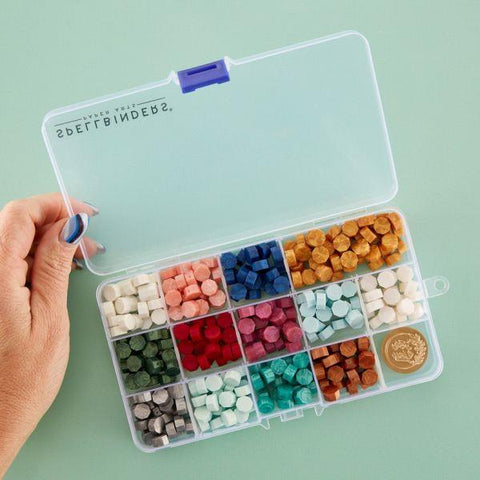 Scrap Addicts Custom Wax Bead Collection
SKU:
Love wax seals and all the amazing colours of wax - but don't want 100 of one colour?
We have a great option for you - make your own custom mix!!!
This item allows you to purchase the brand new wax seal storage box from Spellbinders and fill it with 150 wax beads - up to 15 different colours - 10 of each.
    Choose from the following 24 Spellbinders wax bead colours:  
    Peachy Pink, Copper, White, Matcha, Enchanted, Black, Silver, Pink Damask, Citrine, Coral, Classic Crimson, Magenta, Twilight Purple, Pastel Aqua, Laguna, Fuchsia, Driftwood, Pastel Blue, Pearl White, Pastel Lilac, Mystic Blue, Teal, Royal Blue, Antique Gold  
To see the colours check them out in our online store.  
To select your custom mix, put your list of colours in the comments section when you check out.  Select 15 choices.  If you want one colour multiple times, say you want "2" or more of that particular colour.
---
We Also Recommend